Need more information about our program?
Request a FREE brochure!
Elementary Art Programs For Educators & Schools
The Great Artist Program is a volunteer-based, turnkey elementary art education program for grades K–6. Our elementary art program uses the great artists of the past to inspire and teach the great artists of the future.  Students not only learn about  great artists, they are given the skills and confidence to be a great artist.
You and your students will be amazed at what they are capable of! Educators and PTAs everywhere are searching for innovative solutions to do more with less. The Great Artist Program delivers quality art education for elementary students with a simple-to-implement, volunteer-based lessons and education that's affordable.
Give your elementary school and your students the tremendous benefits of artistic expression and education. Let them discover the artist within as they study artists, movements, and mediums in the Great Artist Program. Students and teachers alike love this complete art curriculum. And volunteers love to teach it, too! Volunteers need no prior art background to teach the Great Artist Program.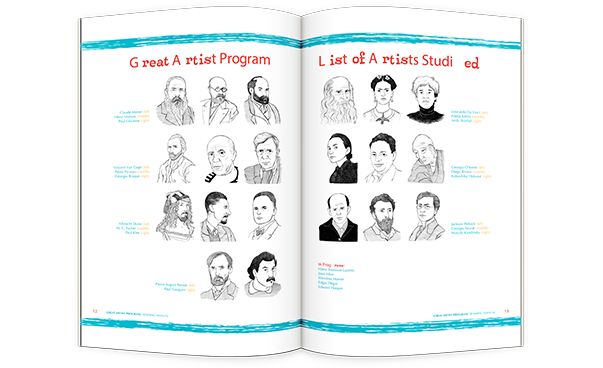 Hello Artist Friends! Don't you just love Eric Carle? I do! I LOVE his illustrations. His use of color, texture,…
I hope you are having a day filled with color, drawing, and creating! I wanted to share some incredible fourth…
Hello Artist Friends! I had to share these amazing value drawings using charcoal that my teen class did last week….